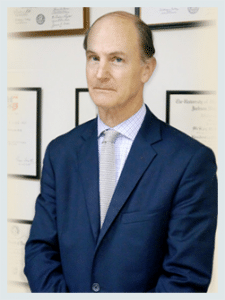 McKay McKinnon, M.D. is a Board Certified Plastic Surgeon practicing in Chicago, Illinois since 1985. The Practice includes a wide range of both Cosmetic and Reconstructive patients from the U.S. and other countries.
History
Dr. McKinnon was on the surgical faculty of The University of Chicago for 24 years, during which time he introduced and taught Craniofacial Surgery there and developed new procedures for patients with cleft lip, craniofacial anomalies and tumors, particularly Neurofibromatosis. He has been practicing Cosmetic Plastic Surgery since 1984 and is in private practice in Chicago at several hospitals and surgical centers, and at his office at 680 North Lake Shore Drive.
Education
Dr. McKinnon trained at Harvard University, The University of Miami and in Paris, France during 8 years of postgraduate residency under the world leaders in Plastic Surgery (Joseph Murray, Ralph Millard, Paul Tessier) and General Surgery (William McDermott, Neil Sedgwick).
Service
Dr. McKinnon has organized and led Surgical Mission trips for 25 years to Choluteca, Honduras with plastic surgery residents.  He has since 2011 conducted ongoing tumor and craniofacial surgical missions in Vietnam, and has been first to introduce Craniofacial Surgery to the principal university training programs in Hanoi and Ho Chi Minh City.
Recognition
Dr. McKinnon is an active member of the American Association of Plastic Surgeons, ASPS,  The International Society of Craniofacial Surgery,  The American Society of Maxillofacial Surgeons,  the Illinois Society of Plastic Surgeons, and other surgical societies.   He has been a frequent speaker at the European Association of Plastic Surgeons. He is a  past president of the Illinois Association of Cleft/Craniofacial Teams and the D.Ralph Millard Society.  Since 2003 he has been a yearly recipient of Castle Connolly Best Doctor Award  and is a regular consultant to Best Doctors of America.  He is listed in Wikipedia,  has been a subject of numerous television documentaries (Discovery, TLC), and has been a guest on the Oprah Winfrey Show.  He has been a guest surgeon of the governments of Honduras, Belize, Peru, Romania,  Portugal,  Thailand, India and Vietnam.  He is a recipient of the ShaareZedek Hospital-David Appelbaum Humanitarian Award, the Morris Esformes Research Fellowship, and the Helen McMenamin Neurofibromatosis Award.
The Practice Goal
The  practice goal is to provide the very best plastic surgery with compassionate care, whether it is a case of skin cancer excision,  your facelift,  a rhinoplasty, a child with complex cranial deformity, or an "unresectable"neurofibroma.   Being a plastic surgeon is a privilege and a responsibility.   Having a patient with a difficult problem is a serious challenge that we do not shirk.  The practice is also about trying to live and work by The Golden Rule while still delivering the best possible results.
Diplomate, The American Board of Plastic Surgery
Chicago Area SUPER DOCTORS
Morris Esformes Endowment Award (U. of Chicago Medical Center)
Dr. David Applebaum Humanitarian Award 2007
WIKIPEDIA Site: McKay McKinnon, M.D.
CINE Golden Eagle Award 2011
Helen McMenamin Neurofibromatosis Award
Invited Guest Surgeon, Government of Belize
Invited Guest Surgeon, Government of Honduras
Invited Guest Surgeon, Government of Peru
Invited Guest Surgeon, Government of Romania
Invited Guest Surgeon, Government of Vietnam and French Vietnamese Hospital, HCMC, Vietnam
Invited Guest Surgeon, Lerdsin Hospital, Bangkok, Thailand
Honorary Visiting Surgeon, Shaare Zedek Medical Center, Jerusalem
Invited Guest Surgeon, Amrita Institute of Medical Sciences, Kerala, India
Past President, D.Ralph Millard Plastic Surgery Society
Past President, Illinois Society of Cleft-Craniofacial Teams
Guest: The Oprah Winfrey Show (2004)